Stuart Simons, Owner and Proprietor of Groom Dog City.
I have been grooming for many years. I have a successful salon in Sunny Sussex as well as here in East the heart of the East End where I groom all breeds to a Highly Professional standard. I am currently one of only 2 Qualified Master Creative Groomers in the UK and can examine and Judge this technique and have done all over the world. I have appeared on many TV shows including 'The Jonathan Ross Show', This Morning, GMTV, The Alan Titchmarsh Show, Russell Howards Big News and many more. I have 4 dogs, 1 Standard Poodle (Ralph), A Bichon Frise (Molly), A Bichon x Shih-Tzu (Maggie) and a Bichon x Maltese (Nelson). All white (complete accident) and all take a lot of grooming. I am pro-education and I believe that education is the key to running a professional commercial salon successfully. That's why I created the Groomers Spotlight, a website hub to allow the General Public to find a Fully Qualified Groomer in their area. (see link).
I am the Grooming Consultant on BBC1's 'Pooch Perfect' hosted by Sheridan Smith.
https://www.thegroomersspotlight.com/stuart
Cintia Kiraly – Manager
Cintia moved to the UK with her partner after appearing on a Hungarian TV program focusing on dog training and behaviour. She has a full Hungarian qualification as well as her Full L3 Open College Network Diploma in Pet Grooming. She is pro-education and attends many seminars and workshops all over the UK and will soon be embarking on her ICMG qualifications. Her grooming is beautiful, she excels at all breeds.
https://www.thegroomersspotlight.com/cintiakiraly
Rute Pereira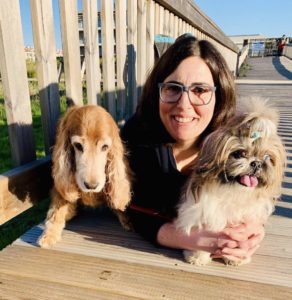 Rute hails from sunny Portugal and has a full Portuguese qualification. She adores all dogs but has a particular passion for the more challenging of our wonderful clients.
Chloe Strudwick – Pet Groomer 
Chloe has a loving gentle approach to grooming. She is an incredibly kind a patient groomer. She is skilled in all areas of grooming and enjoys working with Cats as much as dogs.
Louise Cassidy – Pet Groomer
Louise has been a fixture of GDC for many years. She has her City and Guilds L2 & L3 Intro qualifications and now is confident in grooming all breeds. She is proficient with all dogs but excels with those that are nervous as she has a very patient outward presence. Nervous dogs really seem to really respond to her kind manner.