Stuart Simons, Owner and Proprietor of Groom Dog City.
I have been grooming for many years. I have a successful salon in Sunny Sussex as well as here in East the heart of the East End where I groom all breeds to a Highly Professional standard. I am currently one of only 2 Qualified Master Creative Groomers in the UK and can examine and Judge this technique and have done all over the world. I have appeared on many TV shows including 'The Jonathan Ross Show', This Morning, GMTV, The Alan Titchmarsh Show, Russell Howards Big News and many more. I have 4 dogs, 1 Standard Poodle (Ralph), A Bichon Frise (Molly), A Bichon x Shih-Tzu (Maggie) and a Bichon x Maltese (Nelson). All white (complete accident) and all take a lot of grooming. I am pro-education and I believe that education is the key to running a professional commercial salon successfully. That's why I created the Groomers Spotlight, a website hub to allow the General Public to find a Fully Qualified Groomer in their area. (see link).
I am the Grooming Consultant on BBC1's 'Pooch Perfect' hosted by Sheridan Smith.
https://www.thegroomersspotlight.com/stuart
Rute Pereira – Manager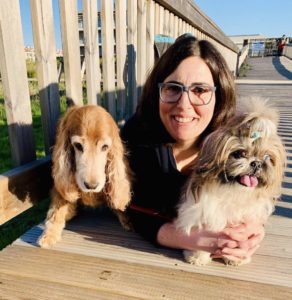 Rute hails from sunny Portugal and has a full Portuguese qualification. She adores all dogs but has a particular passion for the more challenging of our wonderful clients.
Cintia Kiraly – Senior Stylist (Manager)
Cintia moved to the UK with her partner after appearing on a Hungarian TV program focusing on dog training and behaviour. She has a full Hungarian qualification as well as her Full L3 Open College Network Diploma in Pet Grooming. She is pro-education and attends many seminars and workshops all over the UK and will soon be embarking on her ICMG qualifications. Her grooming is beautiful, she excels at all breeds.
https://www.thegroomersspotlight.com/cintiakiraly
Tone Piacentini – Pet Groomer
Tone is a Level 2 city and guilds qualified groomer and is working towards his L3. He has over a years experience working in a busy Salon. His obsession for dogs started way way back to some of his earliest memories but his first experiences working with them came via volunteering roles in different dog sanctuaries in Thailand and Peru. Those experiences gave him a love for working with the more complex or timid characters and particularly rescues. He loves dogs of all breeds large and small and is certain he will never tire of the ever entertaining expressions and faces they pull.
Louise Cassidy – Pet Groomer 
Louise has been a fixture of GDC for many years. She has her City and Guilds L2 & L3 Intro qualifications and now is confident in grooming all breeds. She is proficient with all dogs but excels with those that are nervous as she has a very patient outward presence. Nervous dogs really seem to really respond to her kind manner.
Sam Lee – Pet Groomer
Sam is a level 3 c&g qualified groomer with many years experience with all breeds. Her love of animals started from a young age and she started working with dogs in her teens, spending time in a boarding kennel, vets, and with greyhounds before starting her career as a groomer. Sam has 2 horses, Tess and Galaxy, who she likes to spend all of her spare time with.